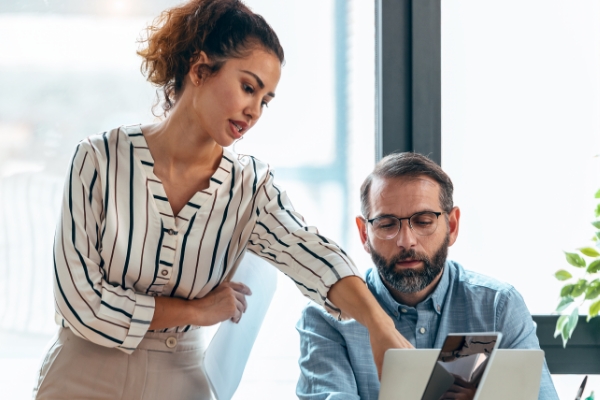 Posted on: September 15, 2023
We work with employers of all sizes.
Whether you're a smaller employer serving just 15 employees or a huge corporation serving thousands, BenefitEd works the same way – and we have clients ranging from small to very large. Regardless of size, we use the same process to understand how we can provide meaningful benefits for your employees that help assist with your recruitment and retention challenges.
You express preferences about how you want your benefits to work. This helps us build a highly competitive, differentiated benefits package tailored to recruit, retain, engage, and reward a more productive workforce specifically for your organizational needs – no matter the size.
Complete Questionnaire
We gather information about your goals, your challenges, and the education benefits programs you want to provide your employees. Once we receive your questionnaire, we'll set up a kickoff call at your convenience.
Onboarding Call
Using your questionnaire and additional information you provide in this call, we'll build your customized benefits program. We discuss metrics, how programs are administered, and how to promote programs to employees.
Return Documents
Your account manager will let you know which documents you need to complete and return to us so that we can build the programs we discussed in the onboarding call. After you return the documents, feel free to explore other support solutions we offer.
Create Program
We build your program with the parameters and calculations needed to easily administer education benefits for you and your employees. You'll have a user-friendly employer portal to upload eligibility and other files, and an employee portal for a simple enrollment process and interface.
Program Demo
We'll set up a call to walk through how the program works, including how you provide eligibility files, verify employee status, and receive monthly enrollment reports to keep track of program activity and impact on retention. You may schedule a demo to walk employees through BenefitEd.
Our programs span all types of education benefits.
Our innovative technology allows us to tailor our software to meet your specific program requirements. Plus, unlike some benefits administrators, BenefitEd can offer a wide range of additional programs and resources, should your needs change. We offer employee benefits, including:
Employer-Assisted Student Loan Repayment. Gain a recruiting edge that helps you attract the best candidates while providing them with much-needed financial assistance with student loans. Plus, boost employee engagement with current employees. You choose which employees receive the loan repayment benefit and how much you contribute to each.
Tuition Reimbursement. Support your employees' continued education, and stay competitive by retooling and retraining employees while keeping them productive and engaged with an effective tuition reimbursement program.
Employer-Assisted College Savings. This benefit can be chosen in combination with – or independent of – Student Loan Repayment. It's your program, so you create the program that's right for you – and decide who receives the benefit and how much you'll contribute.
Support Solutions. Available free to employees with your use of one or more of our programs, we offer smart student loan refinance options with Nelnet Bank, student loan expertise to employees through our coaching sessions, and a resource center for you offering white papers, articles, and case studies.
We continually track what's going on with employers and employees. We understand the critical impact of SECURE Act 2.0 on the benefits employers are required to offer and the options available to them with new legislation. We can help you understand how to remain competitive by adapting your benefits to meet your employees' needs, and how to engage them to be productive and fulfilled on the job and in their lives.
Why we're different.
At BenefitEd, we offer highly competitive, differentiated benefits packages direct to employers through benefit brokers and white label solutions. BenefitEd is a joint partnership between Ameritas Life Insurance Corp. and Nelnet, Inc. The partnership gives our clients the best of us – Ameritas' expertise in the distribution and management of employee benefits and Nelnet's relationships with student loan lenders and decades of experience in payment processing.
Reach out to us and discover how we can help you today.