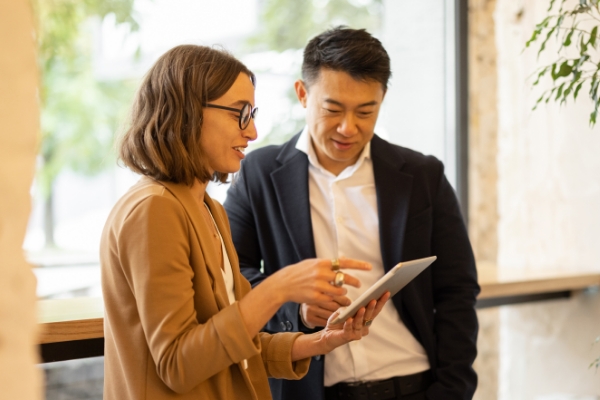 Posted on: June 13, 2023
In today's competitive job market, employers are using education benefits to recruit and retain employees. When an employee hears one employer offers tuition reimbursement and another offers tuition assistance, are those the same thing? Let's explore the differences.
Tuition Reimbursement vs. Tuition Assistance
Through tuition reimbursement plans, employers contribute a set amount of money to help employees pursue specific degrees or certificates. With tuition reimbursement, employees are reimbursed after they complete a course or semester and – in many cases – the employer reimburses a specific percentage of the cost (usually up to a certain limit) based on the grade the employee receives.
Tuition assistance can include upfront financial assistance from an employer to pay for their employee's tuition costs so that the employee doesn't need to pay out of pocket – but as a term, it's also broad enough to include assistance with student loan repayment, scholarship programs, and college savings plans. An employee who sees that a prospective employer offers tuition assistance will want to ask questions about what type of specific tuition assistance the organization provides.
Trends in Paying for Tuition
According to a recent InStride survey of Fortune 500 employees, 80% of employees indicated they would like to go back to school – but only 40% of them were aware their employer offered tuition reimbursement. The survey, conducted in partnership with Bain & Company, also found that only 1-2% of workers who had access to a tuition reimbursement program participated in it.1
Traditionally, tuition reimbursement participation rates have been low and that has often been attributed to several factors that discourage participation.
Financial reasons. If there's a cap on the amount that's reimbursed, it may not be enough to allow employees to afford a return to school – particularly if they need to come up with the money up front. Fees like textbooks, school fees, and loan interest can make going back to school cost prohibitive.
Restrictive policies. If an employer only pays for certain courses that apply to an employee's current job, requires them to continue working full time while taking courses, only reimburses for a certain amount based on performance in the class, or requires an employee to pay back the tuition if they leave within a certain amount of time after taking the course, an employee may be nervous about signing up.
Lifestyle balance. While many employees may want to go back to school, only a certain percentage of them may want to commit to the sacrifice of giving up free time while they're working.
With the migration of many workers to remote work during the worldwide pandemic, technological advancement was accelerated. In many industries today, forward-thinking business leaders find they need to build the skills of their workers to meet growing technology needs – and retaining and retooling good employees by helping them gain additional education is a smart way to help them grow with the company.
While tuition reimbursement plans are a great way to help employees earn new degrees to grow into new positions with the company, other employers have found that offering broader tuition assistance has given them a much-needed recruiting edge to attract (and retain) employees in today's tight labor market.
An increasing number of large employers have shifted to offering broader tuition assistance – either partnering with a nearby community college or university to offer tailored degrees or with an online university to offer employees deep discounts or free degrees for programs that specialize in adult learners. With these programs, the employer may pay tuition costs so the employee doesn't have any upfront costs, and the programs are tailored to working adults to make the prospect of getting a degree while working less daunting. The high cost of getting a degree can preclude many of today's workers from affording an education, and an employer that commits to helping them gain an education is building loyalty.
Small or mid-size employers may not be able to afford to foot the entire bill for their employees to get a bachelor's or master's degree, but offering tuition assistance programs that are flexible, that partner with an institution for a significant discount, or have less restrictive policies can help entice more employees to participate. They can also help with retention and provide a recruitment edge for a great return on investment," says Michael Riordan, BenefitEd Chief Executive Officer.
Many employers of all sizes are finding other ways to help alleviate the burden for those who have already paid for higher education by offering employer-assisted student loan repayment or aiding those who want to plan for future education needs for themselves or their families by providing employer-assisted college savings. Education benefit providers like BenefitEd can provide all of these plan options – and it makes sense that most companies will want to offer a diverse workforce a variety of benefits to accommodate the various needs of their employees.
As the need for higher education remains important – and the need for re-education becomes more important – employers will continue to explore ways to use a variety of education benefits. This will include finding new ways to make tuition reimbursement more accessible for employees, as well as adding other forms of tuition assistance that prepare their organization for the future while helping their employees to grow and achieve their educational goals.
1https://get.instride.com/rs/988-ADG-844/images/ebook-what-employees-think-about-traditional-education-programs.pdf