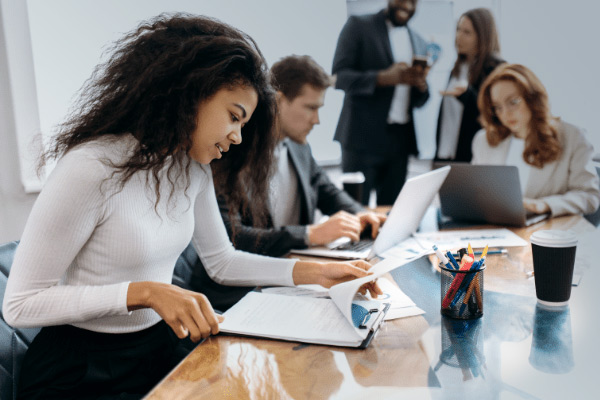 Posted on: February 9, 2022
Today, millions of prospective employees are looking for a specific benefit in their job offers, but few are finding it. They receive employment packages featuring flexible hours, sign-on bonuses, training opportunities, and other attractive rewards. But what they really want is help repaying their student loans.
Many businesses say they don't have the budget to assist employees with student loan payments. Or, they're concerned about providing equitable benefits. With Employer-Assisted Student Loan Repayment from BenefitEd employers can win the talent war and offer relevant benefits that don't heavily impact their budgets.
Address Employees' Real Concerns
In the past, employers only had to offer an attractive mix of benefits and incentives to sway employees to join their teams. But the times have changed. With millions of skilled workers quitting their jobs in the last year as part of the Great Resignation, businesses now have a difficult time hiring and retaining qualified individuals. Now to attract and retain top talent, especially for key positions, businesses need to provide benefits that address prospective employees' most pressing needs, such as student loan repayment assistance.
Employees of All Ages Have Student Loans
The Federal Reserve reports that approximately 44.7 million Americans owe more than $1.7 trillion in student loans. Research collected by the Education Data Initiative suggests that the average student borrower takes 20 years to pay off their student loan debt, with some professional graduates taking over 45 years to pay off student loans. Data also revealed the average student loan debt for the undergraduate class of 2022 is over $37,000.
But it's not just recent grads struggling with student loans – adults age 30-45 owe nearly half of all student loan debt. And for older employees, federal debt for ages 62 and older has increased 25% since 2017 with an average of $40,750 owed per borrower. Student debt isn't just an issue that applies to specific demographics of the workforce, it's universal.
Offer Support with BenefitEd
According to a recent PEW research study, nearly 87% of borrowers have a hard time paying back their student loans. For many workers, the loan repayment amount is equivalent to a car or home mortgage payment. A survey from American Student Assistance found that nearly 65% of employees ages 22 to 33 with student loan debts were considering a second job solely to help pay off their student loans.
With so many employees of all ages dealing with student loan debt, offering a benefit to help with student loan payments is a great way to gain a competitive advantage in recruiting and retaining top talent, while also reducing employee financial stress.
BenefitEd's Employer-Assisted Student Loan Repayment program allows employers to help their employees pay back their student loan debt through direct contributions or matching programs. Employers simply choose who receives the loan repayment benefit and how much to contribute, and BenefitEd takes care of everything else, easing the administrative burden on employers.
Win the Talent War
Employers can win the talent war with Employer-Assisted Student Loan Repayment from BenefitEd. With this benefit, businesses can assist employees in repaying student loans and creating brighter financial futures. Prospective team members will be drawn to these companies because they'll want to work for an employer that truly cares about their employees' needs and concerns.
Interested in Learning More?
Contact us today to learn more about Employer-Assisted Student Loan Repayment.